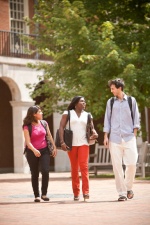 U.S. News & World Report has released its latest rankings of the American's Best Colleges 2010, and Harvard and Princeton are once again tied for number one. Several other universities also maintained their top rankings including Wake Forest, which tied for 28 with Tufts University and the University of North Carolina at Chapel Hill. While we are pleased to be part of such esteemed company, it's important to look beyond the numbers when evaluating the quality of a university. The magazine's director of data research, Robert J. Morse, acknowledges as much in an article explaining how the rankings are calculated. "Certainly, the college experience consists of a host of intangibles that cannot be reduced to numbers," Morse writes along with co-author Samuel Flanigan.
In our society of rankings, everything from vacuum sweepers to health care to universities, there is a tendency to think that we are all the same. That we all offer the same basic features, but that there is a linear progression of best to worst. That is, like vacuum sweepers, they all suck up the dirt – the goal – but some are better than others and you should buy the best that you can afford! But the truth is that universities and colleges have different missions and values, different strengths and different characters and cultures, and while they all provide an education and a college degree, they don't all do it for the same function.
For example, some require that you apply to a particular school and focus pretty intensively in that area. Others, like Wake Forest, ask all students to enter a college and learn from all areas of the liberal arts before – less intensively – focusing on a major. Some large universities have huge curriculums from which to sample, but also large classes. Others have smaller classes but not as many choices. Some offer residential experiences. At others, the campus is dead after 5 p.m. Some have big-time athletics and intense school spirit. At others, many students can play but usually there are few fans watching.
Given all these differences, what's the best way to decide which university you should attend? Take time to know yourself first. What is important to you? What are your interests (general – not too specific)? How are you motivated? Where are you comfortable? What makes you happy? Then go visit some college campuses, read the guides, talk to people and listen. Collect the information on the schools and find the right fit. Don't simply reduce one of the most important decisions of your life to the best school that you can get into as defined by U.S. News & World Report.
U.S News and World Report – Best Colleges 2010