State of College Admission Report: Enrollment and Economic Uncertainty Both on the Rise
Main Content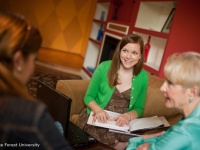 College applications continue to rise and enrollment has reached an all-time high, but the recent economic uncertainty is forcing a change in plans for many students. These are just a few of the findings in the 2009 State of College Admission report released this week by the National Association for Admission Counseling. The report, based on surveys of colleges and universities and counselors nationwide, examined both recent trends and long-term changes in college admissions. Here are some of the other key figures in this year's report:
College enrollment reached 17.8 million students in 2006, an all-time high, and the number is expected to keep increasing until at least 2017.
Four-year colleges accepted an average of 67 percent of applicants in 2007, down from 71 percent in 2001, according to data from the U.S. Department of Education. But the report also noted a four percent decrease in the yield rate, or the proportion of accepted students who actually enroll. On the average, 45 percent of students who are accepted ultimately enroll in a college or university.
Grades in college prep courses, the strength of the high school curriculum, standardized test scores, and high school grade point average (in that order) were the top four factors that admissions offices considered in making their decisions. Other factors that played into the decision process, and were ranked similarly, included the personal essay, counselor and teacher recommendations, class rank, and the student's interest.
A survey that the NACAC conducted in 2009 found that the weak economy is forcing changes in college plans. High school counselors report that more students are opting against their "dream schools" and choosing more affordable options instead. In addition, secondary schools are offering additional financial aid sessions and making other program changes to help students cope with the economic setbacks.
See a list of other key findings in the report.