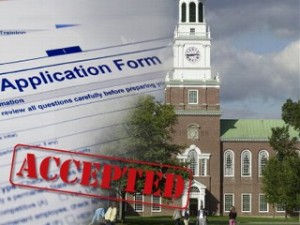 College acceptance letters are on their way to mailboxes across the United States, but instead of the traditional snail mail correspondence, you may be receiving an email, a link to an Internet video or maybe even a fancy certificate that you can frame and put up on your wall.  U.S. News & World Report recently provided a round up of the novel approaches universities are taking to notifying students that they have been accepted. Among the most unusual? Elon University emails students a link to a video entitled "Congratulations. You've been accepted to Elon!" complete with a cheering crowd and picturesque scenes from the North Carolina campus.  St. Bonaventure University mails out a college T-shirt with its acceptance letter, while MIT includes a poster and confetti in its package to applicants accepted under early decision.
Email also continues to be a popular way of notifying students about admissions decisions, but many schools are grappling with whether to follow up their, "no" with snail mail correspondence. While some students have complained that they do not need to hear the bad news twice, others have lamented the fact that a lack of a formal letter only makes them feel more rejected. "They say they won't be sending you an actual letter because that would only make it worse. Ha ha like I didn't cry enough," said one student who was denied admission to Stanford.
Given that their news can elicit either cheers or tears, some universities are timing their emails to ensure they don't disrupt the school day.  For example, Hamilton College in Clinton, N.Y., now posts its admissions decisions on Fridays at 8 p.m. so that "people have time before they see their friends," admissions dean Monica Inzer told the magazine. But regardless of what time of day they email their news, universities are making doubly sure that they have their facts straight. George Washington University recently sent acceptance emails to 200 applicants who actually were rejected. What to do at that point? Follow up with another email admitting that they had made a mistake.