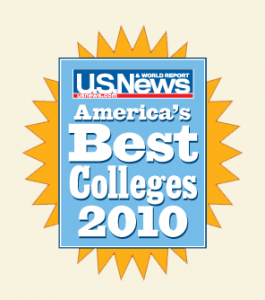 Although much anticipated each year, the U.S. News & World Report college rankings are not without controversy. As reported on this blog, two recently published studies have questioned the methodology the magazine uses to come up with its list of America's Best Colleges. In one paper,  researchers suggested that the reputational scores used in the rankings are based on circular logic. Another journal article by the same authors also stated that rankings drive reputations and not the other way around.
In a recent blog post  of his own, Robert Morse who directs the rankings, says changes in methodology may soon be in store. The first change would involve the reputational scores that have been the greatest source of contention. In order to get a broader view in the academic reputation component, the magazine may be adding high school counselors' rankings of colleges into the mix. By combining the scores from the current peer assessment survey rating done by college academics with the high school counselors' ranking, the magazine would create a new score called the "undergraduate academic reputation index."
The magazine is also considering another change in its reputation index. It may be taking a college's "admit yield" into account as well. That's the percentage of students that the school accepts that actually enroll in the fall. "Yield is a very good proxy for student views because it's how much students value their acceptance from that particular college," Morse writes.
Only time will tell if the proposed change silence critics. But in the meantime, the magazine is inviting readers to comment on its methodology. Click here  to speak your mind.