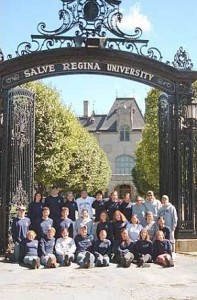 Salve Regina, a Catholic liberal arts university in Rhode Island, is the latest to announce it is making SAT and ACT standardized test scores optional for most students applying for admission. The university announced its decision, which is effective immediately, as it was welcoming the largest freshman class in its history.
 Salve Regina joins more than 800 colleges and universities that also have gone test-optional in recent years. The decision to become test optional is the result of a long process of research and discussion," Laura McPhie Oliveira, vice president for enrollment said in a statement. "Our research shows that the best predictor of academic success at Salve Regina is strong performance in a rigorous college preparatory program. The goal is to stay true to the inclusive spirit of our mission and focus on what really matters, which is a student's ability to succeed and thrive in our community."
 The statement pointed out that there is increasing concern that standardized test scores are not good predictors of academic success because they can be influenced by environmental, cultural and economic factors. By adopting the new policy, Salve Regina hopes to enhance its commitment to a high-performing and diverse student body.
"Our staff will continue to review applications as thoroughly as we have done in the past," said Colleen Emerson, dean of undergraduate admissions. "The most important part of our application review process has always been and will continue to be a student's day-to-day performance in a strong curriculum. Our best applicants have always been those who have challenged themselves to go beyond the minimum requirements."